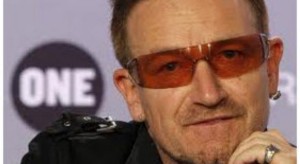 Un video celebra i 10 anni dell'organizzazione no profit One di cui Bono è co-fondatore.
E' proprio il cantante degli U2 a dare la voce al video creato dagli artisti Oliver Jeffers e Mac Premo.
Enjoy
A lot has changed in a decade.
10 years ago, Facebook existed on a computer in a college dorm. There were no tweets, hashtags or iPhones. The only people occupying Wall Street wore suits and the Tea Party had a colonial Boston accent. And ONE was but a few.
It was started mainly because, truth be told, Nelson Mandela and Archbishop Desmond Tutu asked us to. And really… who says no to the two of them?
What was needed, they felt, was a demonstration of support for the world's poorest… citizens around the globe standing in solidarity with one another and calling on leaders to do more of what helped and less of what hurt the most vulnerable people on the planet.
And so, ONE was born.
A few of us gathered near the Liberty Bell in Philadelphia to launch a campaign to lift millions out of poverty. We knew each person could make a difference, but we believed that if we worked together as ONE – we could change the world.
10 years later, I am blown away by what you've accomplished, by working together across continents and ideologies, and by holding tight to the belief that the fight against poverty isn't about charity, but about justice and equality.
And you got busy. Watch this. Spread it. Share it. Pass it on.
Debt relief for dozens of countries in Africa that helped put an extra 54 million kids in school. Aid made more effective and accountable. Tough laws passed to help ensure the oil, gas and minerals under the ground in poor countries aren't stolen from the people living above them. 7.5 million people in Africa are thriving on ARVs; malaria death rates have been cut in half in 13 countries across the continent. Political leaders from left, right and centre hit with calls, letters, town hall meetings and tweets and forced to take a stand on the fight against extreme poverty.
ONE's tagline is one of the few things that has stayed the same: "We're not asking for your money. We're asking for your voice." So today, ten years on, we want to thank you for using your voice – whether through a click, an email, a letter, a phone call, a conversation, a demonstration, a sit-in, a stand-up…
Your voices together – that has made all the difference.
Thank you.
Bono